Jewel Quest Solitaire - Solitaire like no other.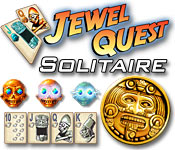 Download Jewel Quest Solitaire
Genre: Card & Board
Download
Buy Now
$ 6.99 USD
This jewel-themed tri-peaks solitaire game will keep you mesmerized for hours. Match card suits to make gold as you unearth buried cards, avoid cursed jewels, and solve more than 100 card layouts on a South American trek. Embark on your adventure today. Riches and glory are in the cards!
114 layouts.
2 gameplay modes.
Unlimited gameplay.
Play Jewel Quest Solitaire 2
Screenshots