Turbo Fiesta - A gastronomical Time Management game.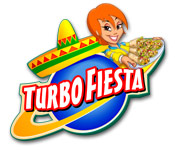 Genre: Arcade & Action
Download
Buy Now
$ 6.99 USD
Third in the hugely popular Turbo series, Turbo Fiesta is what happens when south of the border cuisine takes on an interplanetary trajectory. An astronomical and gastronomical adventure, Turbo Fiesta is truly out of this world! Rebecca and Robert are taking their fast food empire to totally new heights. Serve interplanetary customers in spectacular, far-out locations and watch your fast food empire skyrocket.
Space-age restaurants.
Brand new power ups.
Full color comics.
Get help at our Forums
Screenshots