Mahjong Journey of Enlightenment - Endless mahjong fun!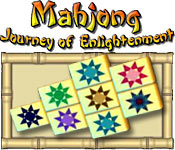 Download Mahjong Journey of Enlightenment
Genre: Mahjong
Download
Buy Now
$ 6.99 USD
Welcome to this enchanting world of enlightenment. This game has literally hours of gameplay for the mahjong-minded individual. Play strategically through mahjong games unlocking bonus items and modes as you succeed on your journey. Can you complete the journey and become enlightened?
Hundreds of unlockable items.
Challenging gameplay.
Amazingly lifelike 3D graphics.
Screenshots