Heavy Weapon - Side-scrolling shoot-em-up fun!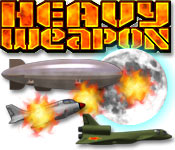 Genre: Arcade & Action
Download
Buy Now
$ 6.99 USD
Deliver heavy arcade action in this exciting take on classic shoot-'em-up fun. Unleash this adrenaline-soaked blast of retro videogame chic, complete with an intuitive mouse-driven interface, explosive graphics, and easy-to-learn mechanics. Power through 19 missions and keep an eye out for six secret upgradeable weapons.
Two action-packed game modes.
19 missions to power through.
Six secret weapon upgrades.
Screenshots