Dr. Lynch: Grave Secrets - Solve the spectral mystery!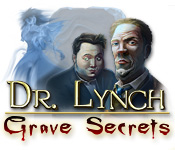 Download Dr. Lynch: Grave Secrets
Genre: Puzzle
Download
Buy Now
$ 6.99 USD
Join world-renowned skeptic Dr. Ignatius Lynch as he investigates strange happenings at an archeological dig site in the English countryside. Villagers fear a spectral horror has descended upon the sleepy town of Hereford, England; uncover hidden clues and discover the truth behind the ghostly apparition in this haunting Hidden Object game!
An entire village to explore
Eerie art and graphics
Solve the spectral mystery!
Get help at our Forums
Screenshots