Holly 2 - Find and save Holly`s daughter!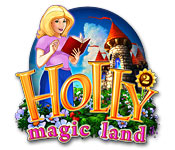 Genre: Puzzle
Download
Buy Now
$ 6.99 USD
Find and save Holly`s daughter by following an elf to a magical world, full of Hidden Object scenes and exciting minigames! Search an entirely new world as you track down Holly`s daughter, and meet an enchanting cast of characters. Holly 2: Magic Land is a Hidden Object game full of gorgeous hand-drawn scenes, challenging levels, and entertaining cut scenes. Reunite Holly with her daughter and escape Magic Land!
Hand drawn art
Quirky storyline
Save Holly`s daughter!
Screenshots