Farm Craft 2 - Stop the Global Vegetable Crisis!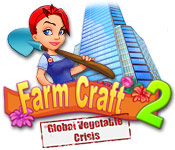 Genre: Arcade & Action
Download
Buy Now
$ 6.99 USD
Ginger's company, aptly called the Tomato Corporation, owns and works with a vast network of farms and food suppliers making quality, healthy food. Her trusty shovel hangs on the wall as a memento to her great work in past. During a trip back to her farm to visit to her grandparents, Ginger stumbles upon people making suspicious, and dangerous, experimental fruits and vegetables in her village. Dive into Farm Craft 2: Global Vegetable Crisis and save the world in this Time Management game.
Fast-paced gameplay
Unique minigames
Stop the Global Veggie Crisis!
Get help at our Forums
Play Farm Craft
Screenshots